Holland lands Wazzu offer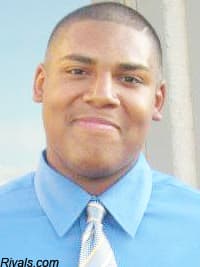 Isaiah Holland
's recruitment has taken a big upward swing in the last few months and as the offers have rolled in, the Highlands Ranch (Colo.) Valor Christian product has had a tough time keeping up with all the attention.
Washington State was one of the latest programs to offer the 6-foot-4, 300-pound offensive tackle and when his coaches informed him of the news, he was humbly surprised.
"They actually offered awhile ago but it kind of went unnoticed until my coaches told me," Holland said in a phone interview on Thursday. "It was a shock and I was surprised but really excited about the news."
The Washington State coaching staff has been regularly sending hand-written letters to Holland and although he has yet to meet anyone on the staff, he's appreciative of the program's genuine interest.
"I haven't looked into the school too much because I've been really busy but I like the things they've been telling me in my letters," Holland said. "Some of the colleges that I have offers from haven't been in contact with me as much as Washington State has.
"They're one of the schools that stay in close contact with me and I really appreciate it. It feels like they really do honestly want me to be a part of their program."
In addition to the Cougars, the two-star offensive lineman already holds Pac-12 offers from Oregon State, Arizona State and Colorado. Other schools to extend scholarship offers to Holland include New Mexico State, San Diego State and Wyoming with interest from several Ivy League schools.
With his recruitment moving so fast, Holland wants to remain patient and plans on taking his time with any decision.
"No one is really standing out right now because I want to stay open until five or six games into my senior season," Holland said. "I feel like once I show everyone what I can really do and how much I can improve on the field I could start seeing more offers.
"As for the offers that I have right now, I'm very grateful for them. That's an opportunity to get an education and a kick start to begin my career."
Holland started playing football his freshman year in high school but admits he has only really been developing as an offensive lineman for two seasons. As one of the bigger bodies on a below-average high school team, the coaching staff threw him at a number of positions to take up space rather than focus at his true position on the offensive line.
"The first two years don't really count because they didn't develop me and rather just threw me out there," Holland said. "We only won like two games total and I did play, but we didn't really play 'real' football until I came to Valor."
Before making any commitment, Holland is taking a wider look at his future and has some criteria that will go into his decision that reaches further than the football program.
"First and foremost education," Holland said of his priorities when looking for a school. "That's what I'm going there for and that's what is going to last me throughout my life.
"The second thing is the environment. I want the school to be consistent with my growth and allow me to grow into myself. Whether that happens in a city, close to home or far from home, it doesn't matter, as long it's a community that is close-knit and allows me to grow.
"Lastly, no one likes to lose so I want a program to develop me, not only as a young man, but as a football player so that I can help a team with a bright future on the football field."
Earlier this summer, Holland took an unofficial visit to San Diego State and also attended Colorado's junior day event but doesn't plan on taking any more visits until the season starts. He'll wait until his senior season begins to start scheduling official visits as his recruitment continues to take shape.
Despite an impressive list of offers, Holland still has room to grow and become a better student of the game. There are still a number of things he is working on heading into his senior season.
"One of the things we've been pushing is technique because that's something you can always refine and get better at," Holland said. "I'm also looking to improve my intensity because I played a little scared last year.
"I want to play dominant this year and capitalize on my growing football knowledge that I've been learning on a day-to-day basis."