Pilots Hold Off Cougs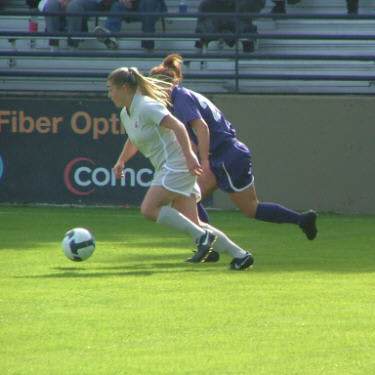 The Washington State University
soccer team's match against the University of Portland Pilots was there for the taking but two shot attempts late in the second half just missed their marks and the
Pilots held off the Cougs, 2-1
in Portland. With the loss, the Cougars drop to 7-3 overall on the year.
The first half was a hard fought affair through the first 28 minutes until a poor defensive clearance by the Cougars allowed a shot by Portland in the box which nicked the post and squirted into the net past junior goalkeeper Meghan Berlingo. The Pilots held that lead until the halftime break.
In the second half, Portland's Michelle Enyeart was fouled in the box and Portland converted the ensuing penalty kick past Berlingo for a 2-0 12 minutes into the half. That is where the score stayed for 16 minutes until senior Kiersten Dallstream blasted a rocket-propelled ball into the net from 24 yards out for Wazzu's goal and only the second goal the Pilots have allowed at home all season. Just under four minutes left in the match, the Cougars were pressuring the Pilots and senior Carly Dobratz just missed a header over the crossbar on the set piece. Nearly three minutes later, true freshman Brandi Vega had the Cougars' final chance when she found herself with a one-on-one against the UP goalkeeper but was unable to convert as the Pilots keeper made a diving save to stab the ball and seal the end of the scoring attempts.
Dallstream's goal give her 28 career goals, securing her third place slot on the all-time list [second place is held by Deka DeWitt at 40 goals] and was her 11th of the season.
Wazzu again outshot their opponent, this time by a 12-10 margin.
Washington State University continues the 2009 season with a Pac-10 opening match against rival Washington at 7pm on Friday, October 9 in Seattle
+++++++sponsored by Giant Release+++++++++
Attention COUGAR fans and well-wishers! The athletic season is here and advertisers are like quarterbacks - how would you like to be the quarterback who threw the game-winning pass that was caught by 30+ million unduplicated consumers in the youth 12-17 and male 18-49 demographic markets through an integrated partnership that offers entrance to top web portals? You are no dummy, so of course you would. Website owners are like the receivers who, in collaboration with their experienced online media veteran teammates at online media consultancy
Giant Release
, can help make that diving touchdown catch to win the game. The quarterbacks at GR can provide the advantages your website is seeking during this upcoming athletic season with their exclusive selection of genre-specific top-tier games, entertainment, male lifestyle, action and college sports content. The season is about to begin, don't to be a benchwarmer.