Presser: Leach on Apple Cup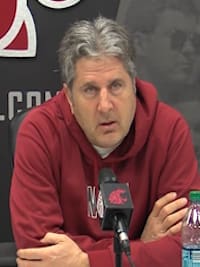 Coming off a loss to Arizona State, Washington State head coach Mike
Leach met with the media to discuss the Cougars' final game of the
season against Washington in the Apple Cup. Leach talked about the
importance of this week's game heading into the offseason, dished on
what he has seen from the Huskies on film and much more below.
Leach's Apple Cup press
conference transcript
(On cornerback Marcellus Pippins…)
"He got kind of pressed into service quickly and then he did pretty
well and we'll continue to look at him, evaluate him, but I thought he
did start out without a lot of preparation and got thrown in there. I
thought he did well."
(Do you think the way Pippins attacked
that opportunity is an example for the rest of the young guys?)
"I hope so and it should. The first thing a guy, when you recruit him
from high school, says he wants to play as a freshman and, you know,
once you get to play as a freshman, you need to play like you belong
there and I thought Marcellus did."
(On linebacker Peyton Pelluer…)
"I think he's a real instinctual guy. Peyton is real hard-nosed guy, a
real instinctual guy and at times over a change I think because of
that, because of his knowledge and sense of the game and I think he's
gotten better and better."
(Does it take a certain personality to
beat out a long-term starter (Monroe) like he has?) "I think it
all depends but the biggest thing is, I think Peyton just has 
great deal of focus and a great deal of effort out there. I think it's
very meaningful to him to play, so I think that helps him."
(Young guys are competing for starting
jobs throughout the year, especially with Thursday Night Football. Does
that accelerate their growth?) "No question."
(How different is the Apple Cup
rivalry compared to previous rivalries you've participated in?)
"This is one of the most intense one's I've ever been a part of. I
think all rivalries have their own qualities to it. It's really just
another game. This is an intense rivalry, everyone gets excited about
it and somebody or another talks about it year-round."
(Is there more importance with
recruits in town for this game than other games?) "I think
they're all important."
(Does the fact that Pelluer comes from
a long line of Washington State football players help him out?)
"I think his expectation that he could be successful was enhanced by
that. I think, sometimes, there's just a sense that you measure up to
that kind of thing. I think that's helped him."
(Do you try to build up more intensity
for this game?) "Everybody is plenty motivated to play the game,
that's not really an issue. We need to focus on our job and our play.
The intensity is already there. There's not a need for extra
motivation, we have the motivation."
(Is there more distractions this week?)
"That's exactly what you try to avoid, which is why we don't worry
about stoking something up. You're already stoked up. We're worried
about doing your job and making plays that's in the context of your
job."
(How does a win in this game compare
to others?) "It's good and it's good. It's the last game of the
season, so I think it's important that way to go out and do the best
you can. It's always a distinction question that somehow this one's
different or more special. It's not like we're sitting here gauging our
effort, saying 'oh, well we're going to try extra hard because this one
is more important.' That's not what's happening here. You try as hard
as you can on all of them. Yeah, we're excited about the Apple Cup,
we're thrilled to play, we can't wait until it starts and we're glad we
have a week to prepare."
(What do you see from Shaq Thompson as
a two-way player?) "Talented guy. Just kind of a talented guy,
sort of special and his ability to do that."
(Would you compare him to UCLA's Myles
Jack?) "I think they're a little different but I think they're
kind of special in a way that they can do a variety of things."
(What have you seen from Washington's
defensive line?) "Strong, kind of explosive, too. A couple
players that are just really good players. Strong, fast guys, you know,
but explosive so they have a knack for getting sacks. And the other
thing is they rely on the defensive line to get pressure. The defensive
line is one that they'll use to get pressure as opposed to a lot of
blitzes."
(On Washington defensive tackle Danny
Shelton…) "He's a big obstacle there and he himself doesn't get
as many sacks but he creates a pile in the quarterbacks lap so it
restricts the space."
(Have you coached against Chris
Petersen before?) "No, I haven't, I actually haven't. I know
Chris Petersen, nice guy."
(What do you do to make the players
feel at home for Thanksgiving?) "Well, you just practice. They
enjoy being around each other to begin with, they actually had quite a
bit of fun in the past at least. We'll have a Thanksgiving dinner and
an activity on Wednesday then get ready to play the game. We'll go to
Zeppoz."
(On Connor Halliday's lasting impact…)
"I think a lot of these guys are young guys that they kind of
drew their sense of working hard and pushing themselves. I think it was
just the starting point, but I think they drew a certain amount of that
from Connor and I think Connor kind of illustrated some of the things
that you can do individually and together if you're focused and you
push hard and you work hard."
(Are you able to use Halliday's
numbers as a recruiting tool?) "Well, I think they're helpful.
Anytime something is the best in history, there's a distinction to it.
I think it's helpful but I also wish he could have finished out the
year but Luke doing a heck of a job so we're excited about him. We
throw the ball quite a bit and we're getting better at it so yeah, we
definitely draw from that with regard to recruiting."
(Is it important for Halliday and his
family to close out his WSU chapter on Saturday night and get that
applause from the fans?) "I think Connor is a big part of the
team and has been from the beginning so we're always excited to see him
and he's around here."
(With no school this week, does that
help you prepare?) "We have 20 hours, so we can use 20 hours how
we want. This time of year it's usually less. This time of year it's
usually significantly less than 20 hours because of practices, which
aren't quite as long, and then you'll have your meetings, but we've
been at it longer so it'll be less than the 20 hours."
(Will Kristoff Williams go through the
senior day activities?) "As far as I know, I haven't talked to
him or paid attention to it. It's fine with me. Here's the thing I get
a kick out of you guys, I mean there's nobody in the nation that a
month and a half before senior day they make plans what's going to
happen on senior day. I haven't planned one in my entire career so I'm
not now."
(Was Kristoff ever told he couldn't go
through senior night activities?) "Not by me. I've talked to him
once in three months. We're excited for him, we're excited for what
he's done and we wish him the best."
(A couple punts against Arizona State
were allowed to drop and give ASU 15-20 more yards. How's that being
coached?) "He should have that one."
(Do you notice a spring in the step of
the guys or that they're more focused this week than usual?)
"Maybe a little just because practice is earlier and even though
school's not going, I think the team kind of enjoys spending some time
together. I think on one hand they don't get a break, but on the other
hand they get to spend a lot of time together, which I think they
enjoy."
(When you think back to your first
Apple Cup win, what sticks out to you about that win?) "Played
hard and played for 60 minutes. We were behind a lot of that game but
scratched our way back into it and that's kind of a win based on
playing hard and getting the most of each play."
(Do you think that win, coming back in
the way you guys did, impacted the buy-in for these players heading
into last season?) "I don't know. I thought we did better in the
offseason, I thought we were excited to win the game and we're excited
to win all games."
(What defines the 14 guys that stuck
around in this senior class?) "I think, obviously in varying
degrees, but some of them really pushed through and it was a tough
change for them. Some of them got pushed out of starting positions,
some of them excelled to hang on to it, and pretty good leaders for the
rest of the group, so we're excited about their careers."
(What's your favorite time period in
history?) "Shoot, tomorrow, I guess. That's a tough one. That's
a tough one to nail down. It's like Paul Harvey says, 'tomorrow's
always better than yesterday.' I could think of arguments for all of
them, really. That's tough to say. I'm sure they all have their
challenges, too. I have trouble narrowing it down. I'm not trying to
avoid your question, but sometimes the stupid questions in here I
avoid, I'll blow them off and there's certainly some of those, but I
just can't narrow it down. I wish I could help you with that and I ask
myself that same question periodically and haven't successfully sorted
it out."
(The students stumped you for once?)
"They darn sure did."
(Is there a rivalry that you haven't
coached in, but fascinates you?) "Shoot, let's think of one. A
lot of them are kind of under the radar more than they ought to be. I
could think of a lot of good ones. Well, you have the Iron Bowl that's
incredibly intense. It's a very, very, very intense game and almost a
game of hatred but that's more of a defensive guy's game because it's
almost trench warfare. It's like World War I or something.
Georgia-Florida is sort of an interesting one. It'll be a long time
before Florida ever catches up to Florida because Georgia's won a ton
of them before the 70s and of course they used to meet down there in
Jacksonville, I don't know if they still do that. I think that's a good
one. They're all kind of exciting and then some of them have evolved to
where they have two or three."
(Washington also has a young crop of
defensive backs. What have you seen out of them?) "Well, they're
not as young as us, interestingly enough. I think they're doing pretty
good, I think Washington's doing pretty good. Right here I got senior,
senior, senior, senior, senior, senior, junior, junior, sophomore,
freshman, sophomore, freshman, sophomore, freshman. I said senior a
lot, so I think they're doing just fine."
(Video courtesy WSU Athletics)

Click
Here
to view this Link.