PREVIEW: Auburn Defense 101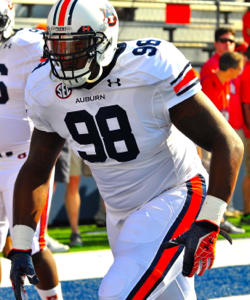 Several reports have downplayed the importance of McNeal's loss, and while it hurts, several players have stepped in to help fill the void. Jones, however, may be the bigger loss due to his experience last season at corner. With Jones out, the Tigers moved freshman running back
Jonathan Ford
to corner, though he was not listed on the depth chart.
"My only concern about our perimeter people is that we're not very deep right now due to injuries and other issues," Johnson said. "You get one dinged up or one has to come out of the game, you cannot have a huge drop-off to that next guy against a team like this."
Despite concerns regarding depth, the starting unit in the defensive backfield is expected to be a solid group in 2013.
There aren't very many weak spots, especially at cornerback, where junior
Jonathon Mincy
and senior
Chris Davis
create a formidable tandem on the outside. AuburnSports.com Publisher Jay G. Tate told WazzuWatch.com earlier this year that Davis "may be the team's best overall player," who is great in coverage and will lay a few hits, as well.
Mincy is also a physical corner. So physical, in fact, he was ejected for targeting during Auburn's A-Day game - a new rule in the NCAA this season.
The starting star safety, a linebacker-safety hybrid, is
Justin Garrett
and he's been really impressive in his new role. He missed a few weeks this fall due to an injury but is back to 100 percent. Junior
Jermaine Whitehead
will start at the free safety while sophomore
Joshua Holsey
gets the start on the weakside.
Hosley is another player that was forced to move into a new position as he spent the majority of his playing time at cornerback as a freshman. Holsey's backup is converted quarterback
Kiehl Frazier
, who made the switch to safety just a couple weeks ago and already finds himself in line for playing time against the Cougars.
Overall, Gus Malzahn and Johnson see the secondary a strength as it stands right now and they believe they have enough versatility among the overall group of pass defenders to have an impact against a team like Washington State.
"You have to have cover ability. Even your linebackers have to have some. That should be an advantage to us," Johnson said. "They're going to keep throwing it and keep pressuring you."
LINEBACKERS
The Tigers are going to employ two linebackers in the new defensive scheme and it's a unit that had some concerns heading into fall camp with several unknowns.
Senior
Jake Holland
will get the start at middle linebacker and sophomore
Cassanova McKinzy
will assume duties at weakside linebacker. McKinzy is a great athlete on the outside but, according to Tate, he seemed lost a lot of last season and struggled to anticipate offensive movement. Holland recorded 73 tackles last season but doesn't pose a threat as a pass rusher.
"Jake's been the most consistent, for sure," Johnson said of Holland. "The two legitimate scrimmages that we had, Jake just had more production, had more tackles, more plays, had a pick, hasn't had as many missed tackles, he's cut those down."
Sophomore
Kris Frost
, a former five star guy, is a name that will be heard quite a bit on Saturday and it's expected he will be the first guy off the sidelines at both positions. Frost appeared in nine games last season in very limited action, recording five tackles and recovering a fumble.
The two linebacker spots in Johnson's defense aren't the speediest guys on the field - but they must be mobile - and will fit more of the mold of middle linebackers at both spots. Johnson said that he'll likely rotate four linebackers.
DEFENSIVE LINE
Key for the Tigers against Washington State will be the play of the defensive line. It's a group that has loads of talent but has really struggled to develop into a quality unit over the last few years. Those concerns are still there, but new defensive line coach Rodney Garner is hoping to change that perception, however, he's the first to admit that it hasn't been easy.
"We've all had our downs, but we've had our ups, too," Garner said. "Definitely more downs than highs, I can tell you that."
The loss of Ford will hamper their pass rush a bit but Johnson doesn't typically employ a designated speed rusher as much as he wants his lines to be versatile on the outside and the inside.
Sanders is a big, strong defensive end but can be stiff at times because he's not extremely agile. Owens moved to defensive end after starting the preseason at outside linebacker. He'll bring more of a pass rushing presence than Sanders.
Two names that will likely see the field situationally for pass rushing purposes are five-star end
Carl Lawson
and
Elijah Daniel
. However, both players are pretty raw and may be susceptible to getting swallowed up by an experienced tackle early on - which Washington State has in
Gunnar Eklund
and
Rico Forbes
.
Where the Cougars' offensive line will need to be strong is up the middle where Johnson's defensive tackles are bred to create a disruption on either side of the center. Last season, Auburn's tackles tended to play a little too high and didn't get much of a push up the middle.
Starting tackles
Angelo Blackson
and either
Jeffrey Whitaker
or
Gabe Wright
will be expected to change that in 2013. Blackson (6-4, 310), Wright (6-4, 296), and Whitaker (6-4, 310) are each big bodies that possess good athleticism when shooting their gaps.
There's an obvious sense of urgency surrounding the group this season after the mediocre units of the past few years, and they're eager to show that it's a different group in 2013.
OVERALL OUTLOOK
The defensive line, as a whole, is a veteran group and will be asked to simply get in the backfield and disrupt the flow of the offense. This is where the Cougars will need to win the battle for them to have a chance to expose a razor thin Tigers secondary.
The Tigers defense has seen a lot of revolving parts this offseason, and coupled with attempting to implement and entirely new defense, there will likely be lapses that the Cougars will need to take advantage of. Johnson says they're still in a 'wait-and-see' mode.
"I think we've made a lot of progress," Johnson said. "Until you actually compete on a game field against another opponent and see how you perform, I don't think you ever really know."
In a game that will be fast paced, this isn't going to be a game that will see a lot of stinginess and three-and-outs. Turnovers made very well be the tale of the tape.

Click
Here
to view this Link.