Scott: Pac-12 perception on upward curve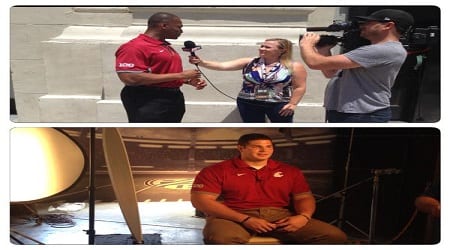 Pac-12 Commissioner Larry Scott realizes the perception of his conference nationally, especially among the media in the Eastern Time Zone, has not been very high in the past.
However, he senses things are changing for the better, and television is the primary reason.
The Pac-12 Network, together with lucrative contracts from Fox Sports and ESPN, has expanded the conference's media reach across the country, exposing the league's talented football programs to brand new audiences every Saturday throughout the fall.
"National TV coverage is getting exposure of Pac-12 football to all pockets of the country," Scott exclaimed Thursday during his State of the Conference speech opening Pac-12 Media Days in Burbank, Calif.
Scott understands more work lies ahead, yet contends progress is made every day in widening the Pac-12 brand. Even to the point some East Coast-based college football analysts have acknowledged the Pac-12 is one of the best, if not the best, football conference in the country while the Pac-12 South is the most balanced and competitive division anywhere in 2015.
"I think we're getting there," Scott said. "Our new television agreements - we're now three years into it - have gone a long way towards making sure the whole country can see every single one of our games, which wasn't the case before. When you look at Marcus (Mariota) being the Heisman Trophy winner, that's done by subjective vote. When you look at the 15 AP All-Americans, Pac-12 had more than any other conference, and that's all done by voting.
"So, all those objective measures those of us out west have worried about and complained about, you're starting to see a shift. The perception gap is starting to narrow. Many saw us as the best football conference in the country last year. Many are seeing the Pac-12 South as the best division in all of college football. This is not something that's going to happen overnight, and it's something you have to earn constantly. But I definitely see us making a lot of progress and there being much greater recognition and respect shown nationally to the Pac-12."
The Pac-12 has fought DirecTV for years to convince the satellite TV provider to carry the Pac-12 Network, but to no avail. Those efforts might finally pay dividends in the wake of the FCC's approval last week of AT&T's $49 billion acquisition of DirecTV.
AT&T is a long-time corporate sponsor of the Pac-12.
"We are delighted our good partner AT&T successfully acquired DirecTV," Scott said. "We've been looking forward to this because we have had an excellent relationship with AT&T for a couple of years. I'm confident we'll be a priority, and there will hopefully be discussions taking place very soon.
"(Right now) our distribution is terrific and well established. Our partners are very happy with it. So I really can't speculate on how conversations will go with AT&T, except I'm confident we'll be having conversations soon and I expect those talks will be positive."
Another factor aiding the Pac-12's cause in their efforts to boost the league's image is the willingness of most member schools to face other Power 5 schools in non-conference play, including Washington State's long trek across three time zones to Rutgers in Week 2.
On the same weekend (Sept. 12), Oregon and Oregon State travel to Michigan State and Michigan, respectively. Unlike other conferences (hint: SEC), the Pac-12 is unafraid to hit the road and encounter hostile crowds during non-conference play.
"We remain the only conference to play nine conference games and a championship game," Scott said. "It's safe to say our teams will earn their status on the field. No one will have a tougher road to the playoffs than the Pac-12 Champion.
"We're playing all the major conferences. That is part of the spirit and the history of the Pac-12. I like the competition both within our conference and taking on all-comers in terms of national competition. So I think it stands us in good stead."
NOTES:
-- Six schools met the media on Thursday: Arizona State, Colorado, Oregon State, Stanford, UCLA and Washington.
-- Mike Leach, offensive lineman Joe Dahl and linebacker Jeremiah Allison are representing Washington State at Pac-12 Media Days. They spent the day conducting private interviews with the three Pac-12 television partners: Pac-12 Network, ESPN and Fox, and were not available to the media. Washington State will begin making their media rounds Friday at 12:10 p.m.
-- Scott said he does not foresee the Pac-12 expanding anytime soon beyond the current 12 schools. "It's worked exceedingly well for us. Colorado and Utah were terrific additions, and our schools like playing each other," Scott said. "When you go beyond 12, you're going to dilute somewhat. You're going to have more erratic types of schedules within your conference. We are delighted with 12 and do not intend to expand."
-- Scott on the intense national debate over the past few years concerning providing greater benefits to athletes such as full cost of attendance scholarships: "The national dialogue about changes to the collegiate experience has been extremely healthy for college athletics. While I acknowledge it was perhaps overdue, it's forced us to focus on and begin to resolve issues that have lingered for far too long."
-- Similar to other Power 5 conferences, the Pac-12 is placing medical spotters in the press box this season. In addition, the Pac-12 is spending $3.5 million dollars a year to conduct research on head trauma, mental illness, and other health and safety issues affecting players.
-- Following the footsteps of other Power 5 conferences, the Pac-12 will allow fans inside the stadiums to simultaneously watch video of plays under review by officiating crews and replay officials in the booth.
-- Scott said the Pac-12 Network plans to televise 850 live events and "hundreds of hours of studio and shoulder programming" for the 2015-16 academic year.
-- The Pac-12 hired former NFL director of officiating David Coleman, who will be a full-time employee at the conference, in order to improve the officiating. "Under David's leadership, we'll be at the forefront of training, accountability, and transparency," Scott said.
-- Week 1 schedule for Pac-12 football:
Thurs. Sept. 3
Michigan at Utah, 5:30 p.m. (Fox Sports 1)
UTSA at Arizona, 7 p.m. (Pac-12 Networks)
Colorado at Hawaii, 10 p.m. (CBS Sports Network)
Fri. Sept. 4
Weber State at Oregon State, 5 p.m. (Pac-12 Networks)
Washington at Boise State, 7:15 p.m. (ESPN)
Sat. Sept. 5
Stanford at Northwestern, 9 a.m. (ESPN)
Portland State at Washington State, 11 a.m. (Pac-12 Networks)
Virginia at UCLA, 12:30 p.m. (FOX)
Grambling State at Cal, 2 p.m. (Pac-12 Networks)
Texas A&M vs. Arizona State (at Houston), 4 p.m. (ESPN)
Eastern Washington at Oregon, 5 p.m. (Pac-12 Networks)
Arkansas State at USC, 8 p.m. (Pac-12 Networks)
-- The Pac-12 has six teams in the preseason 25 of the USA Today Amway Coaches poll: Oregon (No. 5), USC (10), UCLA (14), Arizona State (16), Stanford (21) and Arizona (22). The Cougars face five of those schools (all except USC). Here is the complete coaches poll:
1. Ohio State
2. TCU
3. Alabama
4. Baylor
5. Oregon
6. Michigan State
7. Auburn
8. Florida State
9. Georgia
10. USC
11. Notre Dame
12. Clemson
13. LSU
14. UCLA
15. Ole Miss
16. Arizona State
17. Georgia Tech
18. Wisconsin
19. Oklahoma
20. Arkansas
21. Stanford
22. Arizona
23. Missouri
24. Boise State
25. Tennessee